Call for Submissions for Paid Project for Mural Artist in San Francisco
Priority will be given to artists who are Alliance Health Project supporters or members of the LGBTQ or HIV-affected communities.
Submissions have closed! Jury Sessions are now in process and all donors will be contacted with results in the next couple weeks.
  Adobe Illustrator File Download

The Alliance Health Project is seeking submissions for a mural on the exterior of our community mental health and HIV clinic at 1930 Market Street in San Francisco. The mural will be located in the yellow area in the illustration above and can extend into the other parts of the building. The building is frequently tagged so we propose having solid color blocks at the bottom to allow easy repainting.
Who We Are
A team of compassionate caregivers who have devoted their lives and careers to helping others recover their health and wellness, especially people with mental health concerns, HIV, and/or substance use disorders. We are social workers, therapists, peer counselors, nurse practitioners and psychiatrists.
What We Do
Our clinic offers care to marginalized members of our community—folks who are on public benefits or uninsured. We are funded through city, state and federal grants and individual and foundation donations to offer psychotherapy, substance use counseling, support groups, crisis counseling, psychiatry, training, HIV, STD and hepatitis C test counseling, and PrEP navigation. Founded as the AIDS Health Project in 1984, AHP was among the first organizations in San Francisco, and in the country, to offer client-centered, queer and sex positive, harm reduction, HIV testing, counseling, test counselor training, and support groups. Our clinic has been located at 1930 Market Street since 1997.
What We Want
Something that says "lives are transformed here" something that aligns with our mission, "to support he health and wellness of the LGBTQ and HIV-affected community in constructing healthy and meaningful lives," something that says "health, healing, diversity, inclusion, community, connection, compassion, humility, pride, love, openness, affirmation, empathy, empowerment," values that our team members use to describe our organization.
Some of our supporters call us the littlest known, biggest-hearted organization in San Francisco. We do not advertise our services, but our clients know us and love us. We are known among other service providers as professional, reliable, resourceful, caring, and consistent. Our annual fundraiser is Art for AIDS and, for more than 20 years, have been a grateful and fortunate beneficiary of the art community in San Francisco and beyond. We also love our little neighborhood and want to bring art to our community and our Market Street block.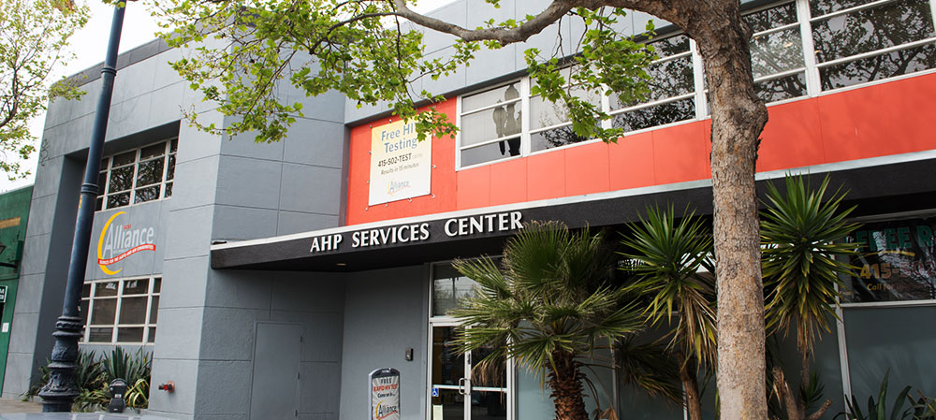 Jury and Finalist Process
A jury of art professionals will pick three finalists. The three finalists will be given a chance to update their proposals and then we will create a ballot and cast a wide net and ask our community, staff, clients, donors, neighbors and stake-holders to vote on the finalist. The final selection announcement will take place on August 30, 2020