Alliance Health Project Brings Light to 1930 Market Street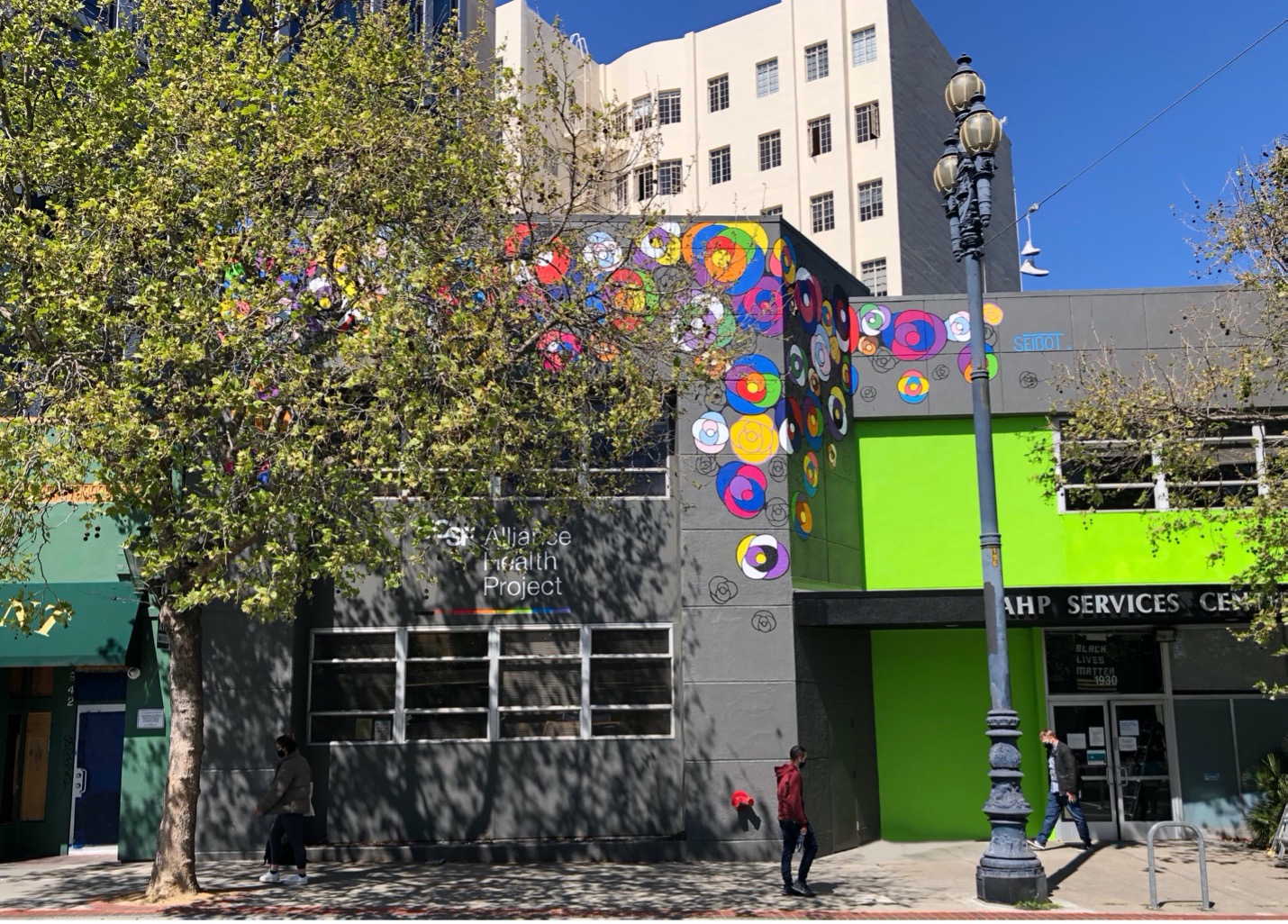 If you've walked or driven by Alliance Health Project at 1930 Market Street, you may have noticed the new mural and paint colors on the building.
The UCSF Alliance Health Project (AHP) has been providing HIV, mental health, and substance use services for 37 years. Founded as the AIDS Health Project during the height of the AIDS pandemic, the organization is one of the city's queer-centered behavioral health providers. Located in the Department of Psychiatry at ZSFG, the Alliance Health Project is a stand-alone clinic funded by the City and County of San Francisco, State, and Federal contracts and grants.
The mural was commissioned in 2020 with the intention that it represent the collective values of the organization.  Staff collaborated on a list of guiding principles and ideals that define AHP to include in the vision for the plan.  The published Call for Submissions asked for a mural that said "lives are transformed here" and which aligned with AHP's mission to "to support the health and wellness of the LGBTQ and HIV-affected community in constructing healthy and meaningful lives."
After extensive outreach to local artists, AHP received fourteen proposals.  A volunteer jury of three art professionals - Daniele Wohl, Robert Melton, and Jennifer Ferris - narrowed the selections to four finalists.  They evaluated the proposals based on alignment with the requested themes and vision, technical ability, and overall design appeal.  The winning design was submitted by Seibot and featured their signature rose images.
Seibot is a San Francisco-based non-binary, trans artist who identifies as an "extremely queer, flower boi."  Their mural design aims to express inclusivity, connection, strength, and vulnerability.  According to the artist "this project strikes me very personally after the loss of a very close genderqueer friend who died by suicide in 2018." Among its services, the Alliance Health Project provides crisis intervention and care that is specifically affirming of gender diversity.
According to Seibot, "The flowers conceptually represent the diversity within the community, love, pride, and the beautiful spectrum of everyone seen together. The negative space symbolizes the past, roots, where we've come from. The black lines provide the contrast to what is present now, currently, but is also part of us, just like our past is always part of us, even when we grow beyond it, it is what helps make our present beautiful."
AHP's Director, Lori Thoemmes, commented that "the energy, compassion, and artistry of the new exterior is thrilling" and went on to say "I feel so excited to have the building express creativity and community, which is symbolic of what happens inside the building."