De'Anthony Jones - Force for Good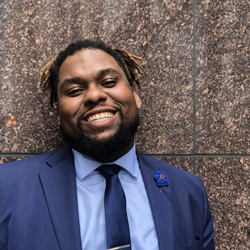 De'Anthony Jones is a tireless force for good. A warm and affable presence, he lives to be of service to his community.
As the Neighborhood Services Liaison at the Mayor's Office of Neighborhood Services at the City and County of San Francisco, he has a deep commitment to government and politics. Who knows? Maybe someday in the future, we will see De'Anthony Jones on a city or state ballot.
He will have success in this life. You can see it in his charisma, his larger-than-life smile and his deep commitment to his community, as he fights for those who do not have a voice. Beginning in high school as a member of the Mayor's Youth Commission, Jones showed that he inherited his political ambition from his grandfather "Speedy" Wade Woods, an activist, politician, and writer from the Fillmore District who has spent a lifetime fighting for fair housing and employment for black people in San Francisco.
De'Anthony found that his journey toward self-acceptance and physical and sexual health was a tender and liberating path. The Sexual Health Team at the Alliance Health Project played a big role in helping him destigmatize his sexuality, HIV disease and his sexual health. In his transformation, guided by the sexual health team at Alliance Health Project, Jones has become an outspoken advocate for sexual health for black people and especially black gay men.
"Sexual health was not something I was taught, especially as a gay man," De'Anthony said. He knew he was gay since he was young, and despite having a loving family, he kept his sexuality a secret until he went to college and met other people like himself. It was there, at Sacramento State, that he had the courage and the freedom to come out. Taking care of his sexual health and learning how to care for himself, though, were concepts he knew nothing about. 
When Jones received a call in 2014 that a man he was sexually involved with had contracted HIV, he panicked, and reacted badly. After learning he was negative, Jones vowed to get educated and was grateful to find community and safety among the staff at Alliance Health Project. "I was so frightened of contracting HIV and didn't know anything about the disease, I just wanted to get away from him," De'Anthony said. "It was a hard time to own up to and I vowed to get educated. As my knowledge expanded, I knew I had to make amends for the way I treated my ex-partner."
And as fate would have it, Jones got another chance in 2017, when he and his then-partner were tested together and De'Anthony's test was negative, but his partner's test was positive. This time, with a better understanding of HIV and sexual health, he was able to react lovingly by actively supporting his partner, and by helping him to prioritize proper medical care.
Access to health care remains a barrier for African Americans, one that has created an alarmingly disproportionate rate of new HIV infections nationally and locally among black men who have sex with men. De'Anthony feels passionate about changing the economic, social and political factors that create barriers to health care and sexual health among African Americans. He will make change through his commitment to service and by sharing his understanding that black people need the opportunity to become empowered through the creation of safe spaces. He is forever grateful for the safety he felt at AHP and is eager to make resources available for others like him.