A Leader with Heart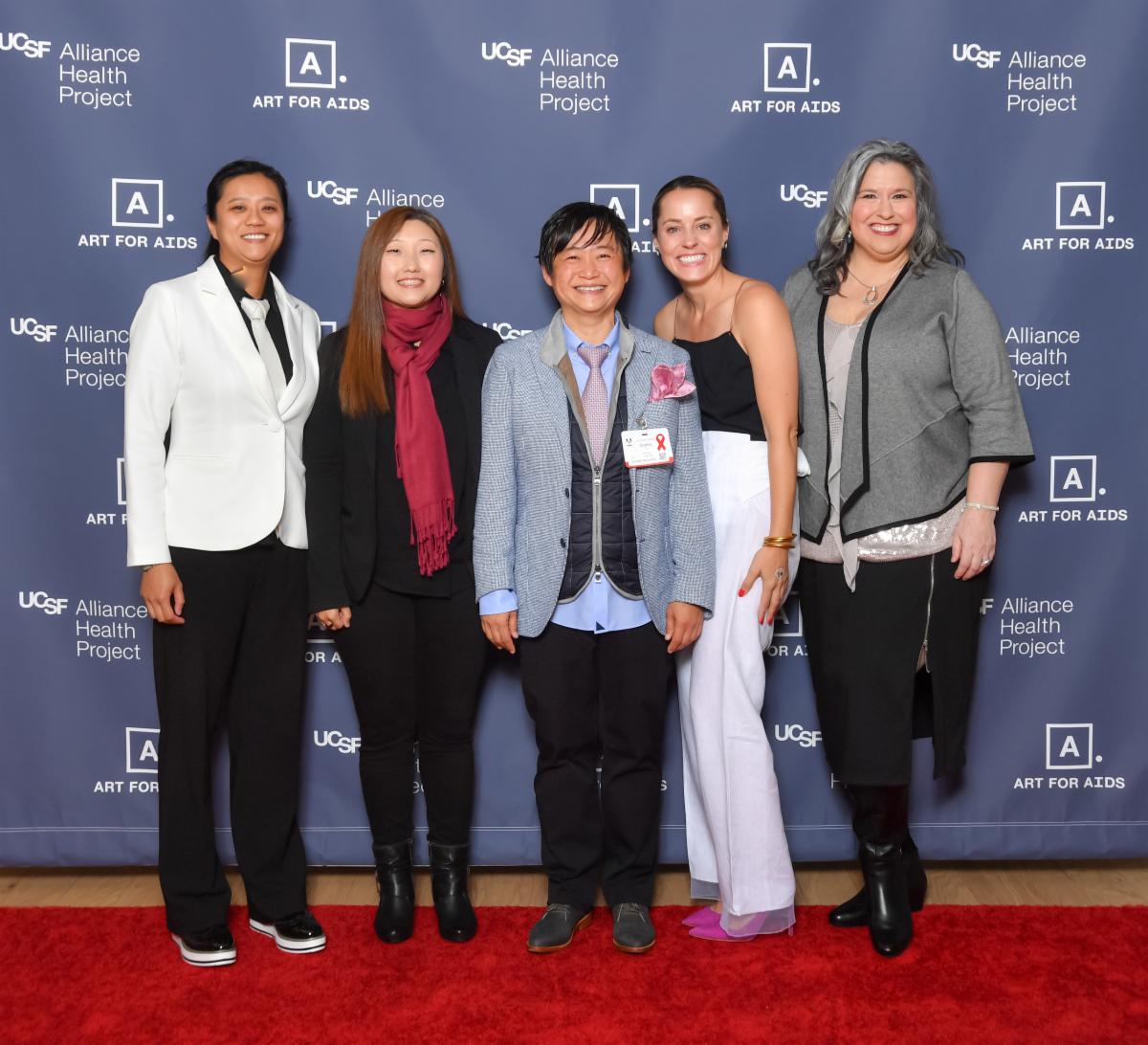 It took years for Sophia Toh to find an organization whose mission she relates to and whose values align with hers. She joined AHP's Community Advisory Board in 2017 and we are grateful for her thoughtful, unifying spirit.
Most recently, she was so impressed by AHP's rapid switch to tele-health and essential in-person services for our LGBTQ and HIV-affected clients that her enthusiasm inspired other board members to join her in thanking each staff member with a gift. She wanted to the staff to know how much they are appreciated.
What drives a person to do service or engage in volunteerism and philanthropy? In Sophia's case, her parents schooled her in the art of generosity. She remembers her first fundraiser at the age of seven, a school-initiated campaign. Sophia went to her Dad's office to ask his colleagues to contribute, but first her Dad donated a very generous amount. He knew his colleagues would not want to be outdone so she managed to raise a record amount of funds for her school.
Ms. Toh credits her parents as clever teachers who demonstrated the value of giving. She describes them as exceptionally generous, for example, Asia is not a tipping culture yet her father always left tips. Her mother volunteers at church and in nursing homes and is continuously feeding people "she just keeps giving stuff a way," Toh smiles as she thinks of her mom cooking giant meals to give the extra food away. She recalled being bribed by her mother with a whole box of chocolates to go to the dentist--on the condition that she bring them to school to share!
We caught up with Ms. Toh for a little chat.
---
AHP: Where did you grow up, go to college, etc.?
Toh: I grew up in Singapore and left at the age of 19 to go to college at Texas A&M – I choose it because they have an excellent reputation for their business and engineering programs. I looked for school ratings – what did I know?
AHP: Was coming to the United States part of your master plan?
Toh: My parents always expected me to go overseas for graduate school. When I decided to go as an undergraduate they were supportive and I was very fortunate that they helped me. I studied finance, calculus and accounting as an undergraduate. Coming to Texas was a huge culture shock. Everything is so big, the hats, the voices, the cowboys boots and all that land.
AHP: How do you identify in terms of gender and sexuality?
Toh: I am a lesbian woman. I've always been attracted to girls, even when I was very young. Knowing that helped me to come to the U.S. at such a young age because I knew I would find other queers.
AHP: How did coming to the U.S. for college shape you?
Toh: I loved being an A&M student and I learned a lot about team spirit as they have a strong school culture. They cultivated what became my guiding principle and what I employ at work to this day; to build a strong culture.
AHP: Tell us a little about you career path trajectory.
Toh: I began my career in Northern Virginia and have lived and worked in New York, Los Angeles and now San Francisco for Network Solutions, Register.com, Deutsch Advertising, Visa and Sofi among others. I build marketing analytics practices and form data strategies to measure marketing effectiveness and optimize customer lifecycle management. I was at the forefront of developing data science practices. I was fortunate to build the first marketing database for Nike and first in-house global marketing analytics team for Visa.
AHP: Tell us about your leadership lessons?
Toh: As a young executive at Network Solutions, I was hired to build a marketing data science and insights practice that grew to 25 people, which at that time, I didn't have the experience to lead. When you are creative, ambitious and a performer, you are promoted to manage people and I feel strongly that I was not ready to be a boss. That experience helped me become a caring and compassionate manager. I've made many of the mistakes described in every leadership management book you can think of. Now my goal is to unify, support, care for and lift up the members of my team.
AHP: What are your operating principles?
Toh: I have two guiding principles that ground me as a business leader every day. First, I show up to help the company I work for outsmart with data. Second, I show up to make my people look good!
AHP: Who are your mentors?
Toh: I've had a chance to work with several women who were super smart, who believed in me, gave me a lot of freedom and a lot of room to shine. I give the women who hired me a lot of credit for what I've done in my career in the world of data. When I first entered the field 25 years ago there was no data science program. I'm super proud of having people accept and support me and give me the space and resources to learn, create and innovate. If there is a role called chief data officer that is head of data, that was what I wanted. Now that is my reality, I am Head of Data at Bond Financial Technology, an amazing company with a great culture and values.
AHP: What is your advice to people?
Toh: I always advise people to find and do what they enjoy.
AHP: What about AHP's mission do you relate to?
Toh: It took me a long time to figure out where I want to focus my efforts in giving back. Giving back is a top priority for me and I wanted to find an organization that I can devote my energy to. I knew when I moved to San Francisco, that this is home. It took me four to five years to find an organization that I resonate with. AHP appeals to me because of the mental health services they provide to our LGBT community.
I first got involved with AHP through Art for AIDS and I've been going every year. I love supporting local artists. If I'm going to buy art, I want to support local artists. Each time I learned a little more of the services that Alliance Health Project provides and the community it serves.
AHP: Can you tell a story of your own mental health care?
Toh: I have had a personal therapist for more than 10 years for both emotional and mental growth. I am big into personal growth to become better in all aspects of my life every day. It is difficult to see the long-term results of therapy but you have to keep showing up and sometimes I can see my own progress, and other times I have to rely on my friends and co-workers to remind me of how much I've changed by being willing to dig around and learn more about myself. 
AHP: In what way do you feel like you are helping AHP's leadership team?
Toh: Recently it's been exciting to see people more involved. I'm surprised to find that the Zoom board meetings work better than in-person meetings, it feels more intimate. The last off-site we had was very helpful and I loved that everyone chipped in for the staff gifts. It gave us a unifying project and we all chipped in. 
I'd like to send more messages to the staff like a heart-shaped photo of the CAB Zoom meeting with a message to the staff from the board. I want to use my Influence to make sure that we take care of people. That's why to me, it's very important where I put my energy and my money. I want to inspire and I want to initiate to bring people along.
AHP: If you could snap your fingers and change the world, what would you wish for?
Toh: Right now, I wish everyone had more empathy.