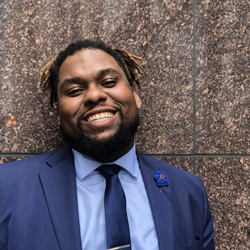 De'Anthony Jones is a tireless force for good. A warm and affable presence, he lives to be of service to his community.
As the Neighborhood Services Liaison at the Mayor's Office of Neighborhood Services at the City and County of San Francisco, he has a deep commitment to government and politics. Who knows? Maybe someday in the future, we will see De'Anthony Jones on a city or state ballot.
He will have success in this life. You can see it in his charisma, his larger-than-life smile and his deep commitment to his community, as he fights for those who do not have a voice. Beginning in high school as a member of the Mayor's Youth Commission, Jones showed that he inherited his political ambition from his grandfather "Speedy" Wade Woods, an activist, politician, and writer from the Fillmore District who has spent a lifetime fighting for fair housing and employment for black people in San Francisco.
De'Anthony found that his journey toward self-acceptance and physical and sexual health was a tender and liberating path. The Sexual Health Team at the Alliance Health Project played a big role in helping him destigmatize his sexuality, HIV disease and his sexual health. In his transformation, guided by the sexual health team at Alliance Health Project, Jones has become an outspoken advocate for sexual health for black people and especially black gay men.
"Sexual health was not something I was taught, especially as a gay man," De'Anthony said. He knew he was gay since he was young, and despite having a loving family, he kept his sexuality a secret...
Read more »