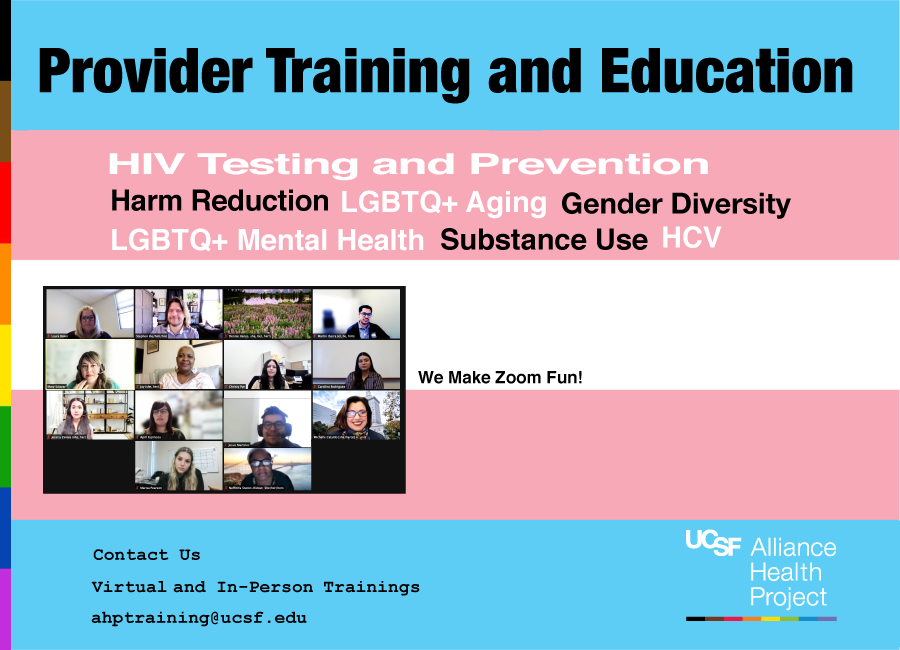 Until March 2020, being a member of AHP's Provider Training and Education (PTE) team meant travelling as many as 10 days out of every month.
"I have a lot of polyester in my wardrobe because; no wrinkles, easy clean, travels great, and I spill a lot of food," said trainer Michelle Cataldo.
Then COVID-19 happened, and we were all told to stay home as much as possible and not gather in groups. Suddenly, the give and take that Michelle and her colleagues feel with their training participants—one of the most prized parts of their jobs—the energy in the room as participants learn from each other, as well as, from the trainers, was put on hold.
AHP has a small but mighty team. It consists of manager, Jen Shockey, logistics coordinator, Neffitiria Staton, and trainers and curriculum developers: Francisco Nanclares, Mary Salazar, Stephen Scott and Michelle Cataldo. Their team's two main functions are to certify California HIV test counselors and conduct national in-person trainings on high impact HIV prevention interventions.
When COVID shutdowns occurred, this boisterous team of extraverts, who laugh a lot, bring home-cooked food to meetings while they talk and plan or work in each other's cubicles, was suddenly told to stay home. Just like the rest of the world, they had to reinvent how they work. And just like the rest of the world, they learned that a two-hour Zoom meeting can feel like a 20-hour meeting. They started using Slack all the time and sending each other little gifts via Amazon because they missed being together. And they faced...
Read more »