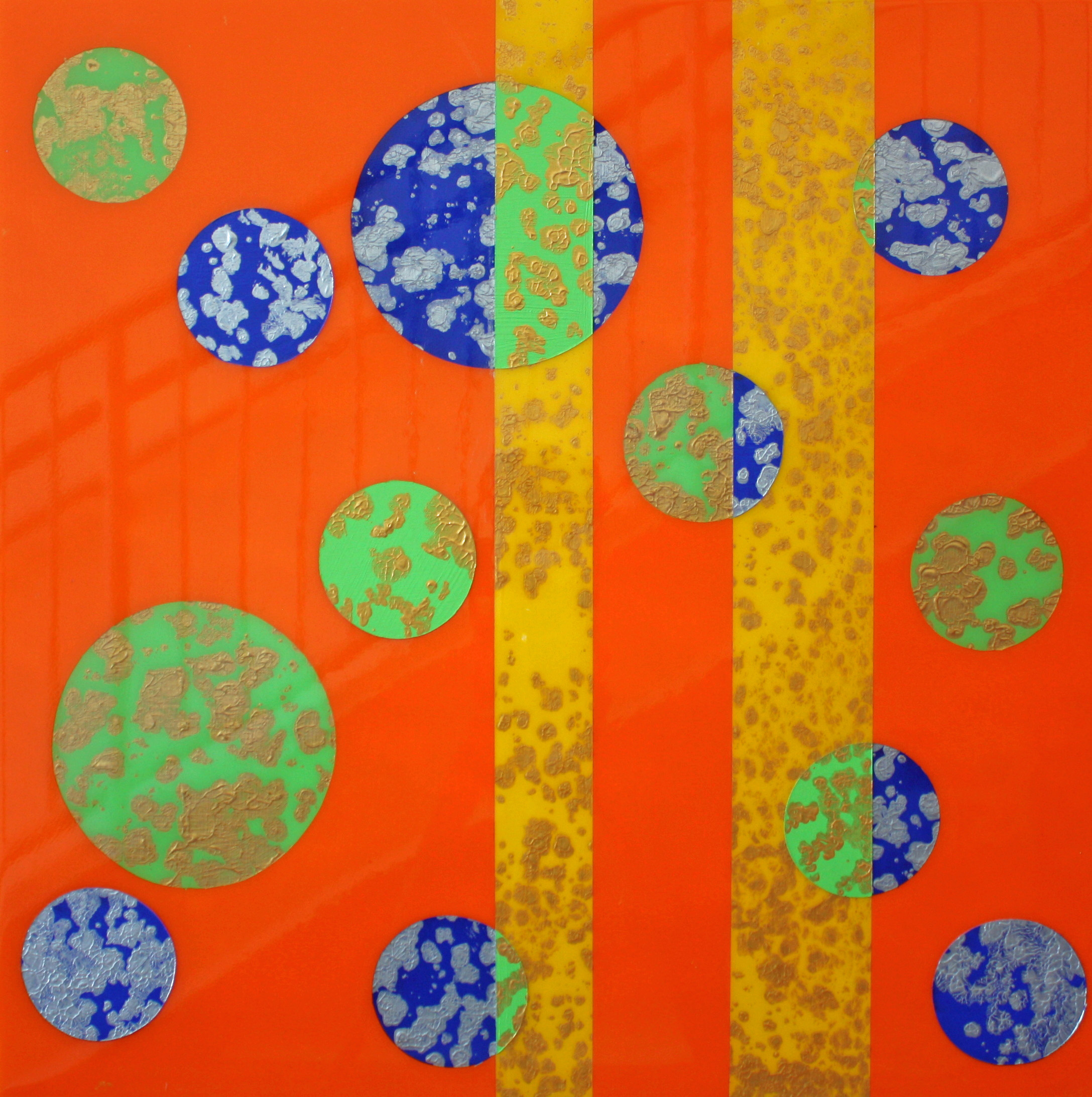 Orange Crush
Mixed Media
24" x 24"
Signature on the back
Layered resin & acrylic on wood panel, hang ready
Retail Price: $1500
Minimum Bid: $550
Buy It Now: $2250
Beckler's art has been termed as Abstract Illusionism. His pieces are colorfully layered forms influenced by his interest in patterns, geometric shapes, and shadows. They are graphic, yet free-flowing, creating complex patterns with the use of layered bright acrylic paints, resin, glass, and paper. The end result is an illusion of a three-dimensional space on a two-dimensional format. At first glance, the finished pieces may look arbitrary, but the patterns, color combinations, as well as the different effects, are thought through in detail before he starts each piece. He then layers each style one by one onto the panel, modifies the flow of the mixtures – acrylic paints with varying additives (slowing or accelerate the drying process) combined with the curing process of the epoxy to create different effects. His work can currently be seen and purchased at ArtHaus and Arttitud in San Francisco, Roche Bobois in Paris, and Boston Art in Boston. Recent Exhibits include: Strangers Show at 3Door Gallery (San Francisco), Twenty/Twenty & Shine Shows - Arthaus (San Francisco), Purely Abstract Show (Healdsburg), Fourth St Gallery (Berkeley), North Point Gallery (San Francisco), Indie Arts Festival (Oakland), Room Gallery (Mill Valley), Triton Mezzanine Gallery (San Francisco), Arttitud Gallery (San Francisco), BOLD Show at O'Hanlon Center of the Arts (Mill Valley), & Boston Art (Boston).