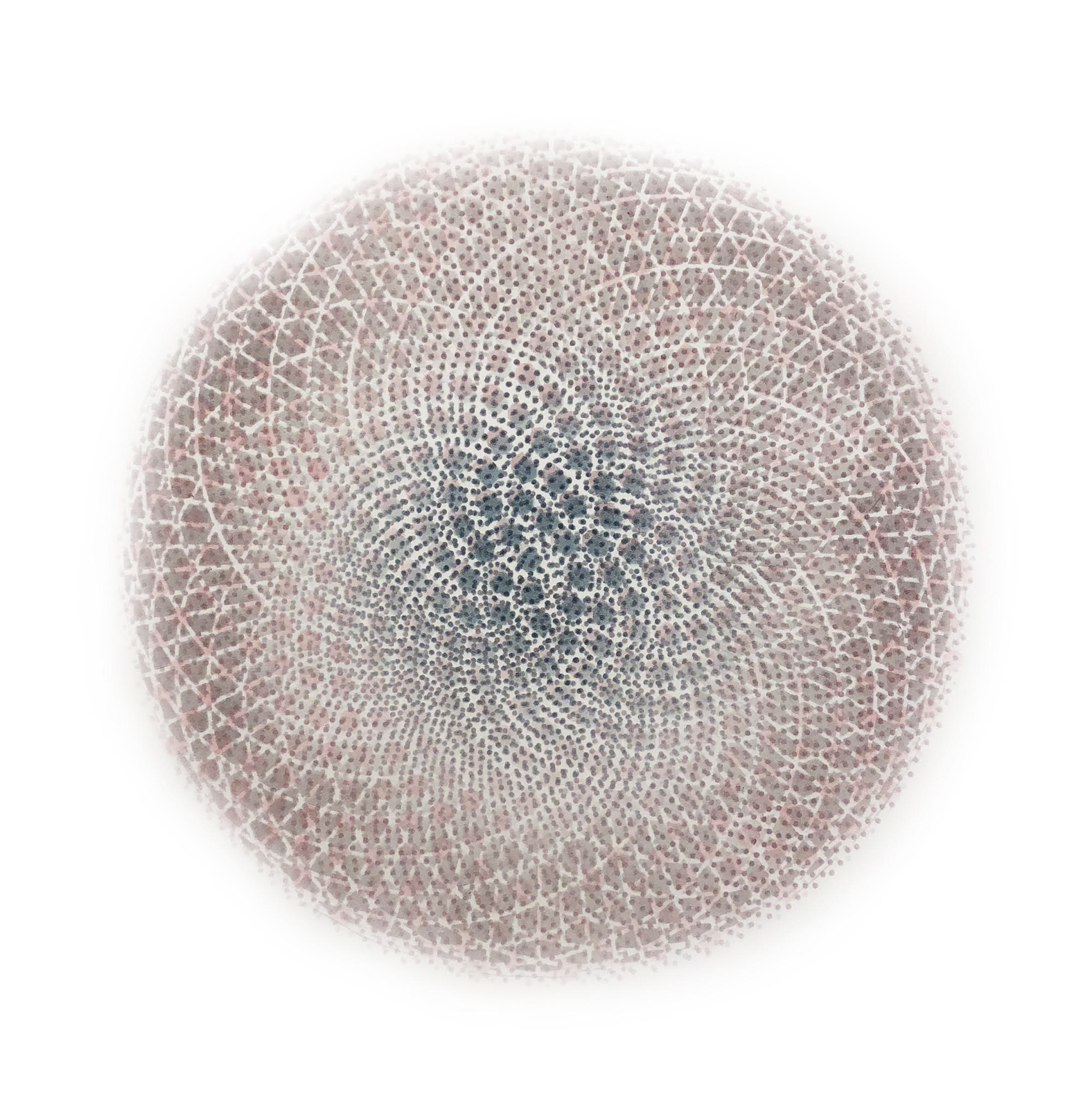 Annuli Series #7
Print
28" x 28"
Framed
Signature on the Front
plank's work deals with visual portrayals of information systems. i work with layers of data visualization, from charting to mathematical equations to scientific principles. in the annuli series a visualization based on the fibonacci sequence, an irrational number sequence, encompasses the growth pattern found in the natural world. using a mathematical representation of growth pattern is one layer of the idea of germination and here multiple equation visualization overlap. the work speaks to a core of growth on one level but also represents the way visual data can be represented overall. it reflects in itself a microcosm of our san francisco community's outputs: technological advancements, scientific discovery, computer-based sciences, and artistic pursuits.
Retail Price: $1600
Minimum Bid: $550
Carrie Ann Plank is a San Francisco-based artist working in the mediums of installation, printmaking, painting, and glass. Plank's work is included in many private and public collections including the Fine Art Archives of the Library of Congress, Fine Art Museums of San Francisco, Achenbach Foundation for Graphic Arts, the Guanlan Print Art Museum in China, and the Iraq National Library in Baghdad. Recent and upcoming noteworthy shows include solo shows at Themes + Projects in San Francisco, Bryant Street Gallery in Palo Alto, DZINE Gallery in San Francisco, and Local Language, Oakland. Recent and upcoming residencies include Vermont Studio Center in Johnson, VT, Konstnärernas Kollektiva Grafikverkstad in Malmo, Sweden, Local Language, Oakland, CA, Edition/Basel: Printed in Cuba at the Taller Experimental de Gráfica de La Habana in Havana, Cuba, the Íslensk Grafík in Reykjavik, Iceland, Edition/Basel: Printed in Basel at Druckwerk in Basel, Switzerland, Mullowney Printing in San Francisco, Haystack Mountain School of Craft in Deer Isle, ME, and Bullseye Glass in Emeryville.  Additionally, Plank has had a 20-year teaching career and most recently served as the Director of the Printmaking MFA & BFA Programs at the Academy of Art University before devoting herself solely to her artist practice in 2018. She is active in the local arts community as a participant, juror, and volunteer, and sits on the of board of Root Division and the California Society of Printmakers. She received her Bachelor of Fine Arts in Printmaking from East Carolina University and her MFA in Printmaking from the Pennsylvania State University. Plank's work is represented by Themes + Projects in San Francisco and Bryant Street Gallery in Palo Alto.