Activist Psychiatrist Dan Karasic, MD Retiring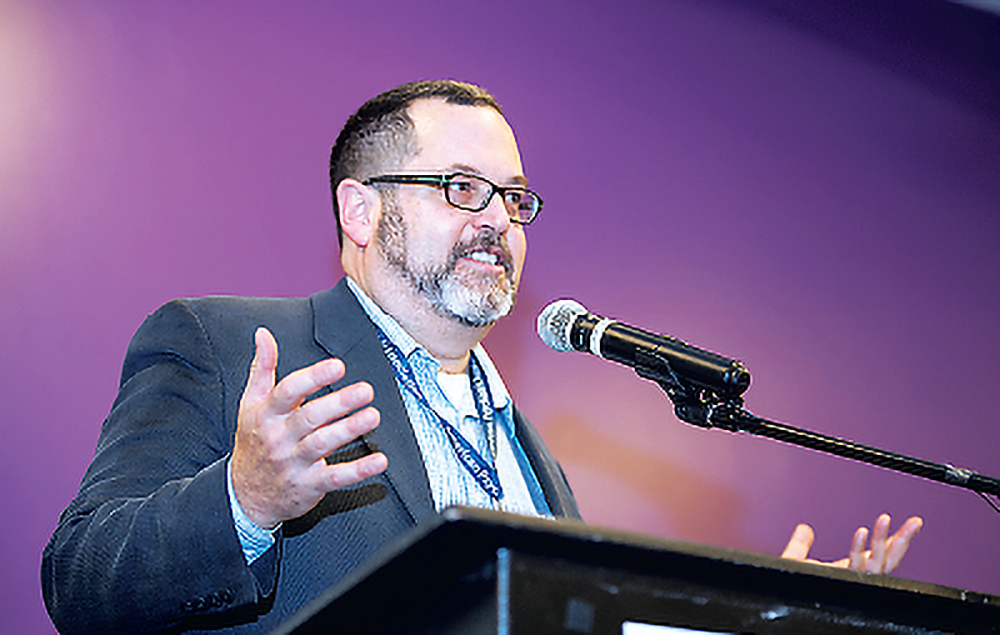 In 1991, when Dan Karasic, MD, arrived at the UCSF AIDS Health Project, now the Alliance Health Project, it was during the pinnacle of the AIDS epidemic. As a gay man who was watching the epidemic unfold, he set his sights on working in San Francisco and helping those suffering from psychiatric disorders as a result of HIV/AIDS.
Dr. Karasic received his MD from Yale University and trained in psychiatry at the UCLA Neuropsychiatric Institute, before coming to San Francisco and working with patients with HIV/AIDS at Ward 86 at ZSFG, one of the nation's first HIV clinics. He also worked on the designated AIDS unit, Ward 5A for more than a decade. It was while working at ZSFG that he began his lifelong interest in the care and equitable treatment of LGBTQ and, in particular, transgender patients.
Treating patients in the early years of the epidemic cemented Dr. Karasic's innate sense of justice and activism. He participated in peer review groups that eventually led to the re-writing of the Diagnostics and Statistics Manual for Mental Disorders (DSM) to de-pathologize gender dysphoria.
As a co-founder and co-leader of the Gender Team at the UCSF Alliance Health Project, Dr. Karasic has brought his deep knowledge and understanding of the trans community to AHP and has served as a mentor to the staff. He has also been the psychiatrist for the Transgender Life Care Program and the Dimensions Clinic for trans youth at Castro Mission Health Center for the last 17 years. His work to improve the lives of transgender patients continued as he edited the book, Sexual and Gender Diagnoses of the Diagnostic and Statistical Manual (DSM): A Reevaluation in 2006.
Another one of Dr. Karasic's achievements was his service on the Board of Directors of the World Professional Association for Transgender Health, an international board that is devoted to clinical and academic research to develop evidence-based medicine to promote a high quality of care for transsexual, transgender, and gender-nonconforming individuals. In his role there, he co-authored the WPATH Standards of Care, Version 7, and is lead author for the Mental Health chapter of the upcoming WPATH Standards of Care, Version 8.
As a Health Sciences Clinical Professor of Psychiatry at UCSF he has trained thousands of healthcare providers in trans health in the US and internationally. He is a Distinguished Fellow of the American Psychiatric Association and serves as Chair of the APA Workgroup on Gender Dysphoria. As a consultant with the United Nations Development Programme Asia, Dr. Karasic has worked to promote transgender civil rights in Vietnam and Thailand. Additionally, he has been an expert in legal cases promoting trans civil rights in Ontario, Alberta, and Saskatchewan, and in legal cases promoting access to surgery for incarcerated trans people in the US. We are proud of his achievements while a member of our team. In 2012, Dr. Karasic was the recipient of the UCSF Chancellor's LGBTQI Leadership Award for his service to the UCSF community at home and abroad.
We spoke to Dr. Karasic about what it means to retire and what is next.
---
AHP: In looking back over your career, what accomplishments are you most proud of?
Dan Karasic: Starting my medical career at the beginning of the AIDS crisis, I've always believed that as healthcare providers our responsibilities to our patients do not end in the exam room. I'm proud of my clinical work, but also my efforts at societal change. These include submitting the proposal accepted by the American Psychiatric Association Board of Trustees in 1998 for the APA to disavow reparative therapy. My efforts since the 1990s for a more respectful, non-pathologizing approach to trans care have also helped effect change of which I am proud. In addition to my work on depsychopathologization of trans people, I'm proud of my work on human rights for incarcerated trans people and for trans people internationally.
With AHP, I'm proud to have co-founded the Gender Team, and to have worked to include AHP in SFDPH's efforts to provide surgery to low-income trans people.
AHP: In thinking about Dan as a resident and Dan as you are now, what have been your most profound changes?  
Dan Karasic: I'm old now! That makes me more patient about some things, and less about others. I feel my experience has made me a much better clinician.
AHP: What will you miss the most about AHP after you leave?
Dan Karasic: Over my 29 years at AHP, I have greatly appreciated the dedicated and compassionate work of AHP staff, and I will miss them as colleagues.
AHP: What stands out for you that makes AHP different from other organizations?
Dan Karasic: AHP shares my values in melding professionalism in clinical care with a sense of social mission to the lives of LGBTQ and HIV-affected people. It's unusual for an agency to have such sustained energy towards both.
AHP: What are the behavioral health needs you saw the most at Castro/Mission Health Clinic?
Dan Karasic: When I started at Castro Mission Health Center in 2003 as psychiatrist for the Transgender Life Care Program and the Dimensions Clinic for trans youth, there were far fewer services available for trans people. In particular now, there is far more information and support available for trans youth and their families. Trans youth often are helped by family support, as well as individual mental health care. For many years, trans surgery was not paid for by Medi-Cal and Healthy SF, but needed by Castro Mission trans patients. I encouraged patients to pursue complaints of exclusion of their care from HSF and other coverage, which helped move forward change in SF. The development of Gender Team services at AHP has meant that many of the adult patients that would have been seen at Castro Mission are now seen at AHP.
AHP: Over the years, what have you learned from clients?
Dan Karasic: I've learned so much from my patients. For one, I've learned to try not to impose my preconceived ideas on others who may view an issue from a very different perspective.
AHP: Over the years, what has been your biggest learning from colleagues?
Dan Karasic: I've learned much about being a better healthcare provider from my colleagues. Being exposed to approaches that are different from mine helps me challenge my decision-making process for the better.
AHP: If AHP had funding to expand Gender Health services, what expansion of services would you advocate for? Why?
Dan Karasic: The AHP Gender Team has done such great work in continually training new staff on providing mental health care for trans people. Over the years, AHP has been involved, statewide and beyond, in trainings on improving testing and mental health care for people with HIV. I think AHP could similarly share its knowledge of trans care with the staff of agencies statewide and beyond. AHP has become more involved with Gender Health SF. I think AHP can continue to expand its collaborative work with SFDPH to support trans people through their surgeries. As more surgeries take place at ZSFG, perhaps there will be expanded opportunities there for supporting AHP clients when they are there.
AHP: What will you miss after you retire?
Dan Karasic: I have worked with some patients for many years, and it is hard to say so many goodbyes. And I'll miss my AHP colleagues, as well as those at Ward 86 and Castro Mission.
AHP: What do you hope to do or create in the next five years?
Dan Karasic:  After retirement, I plan to start a telehealth private practice. I don't know what else I will take on yet. I hope to continue my trans human rights and civil rights work in the US and internationally. And I plan to continue to lecture and teach.