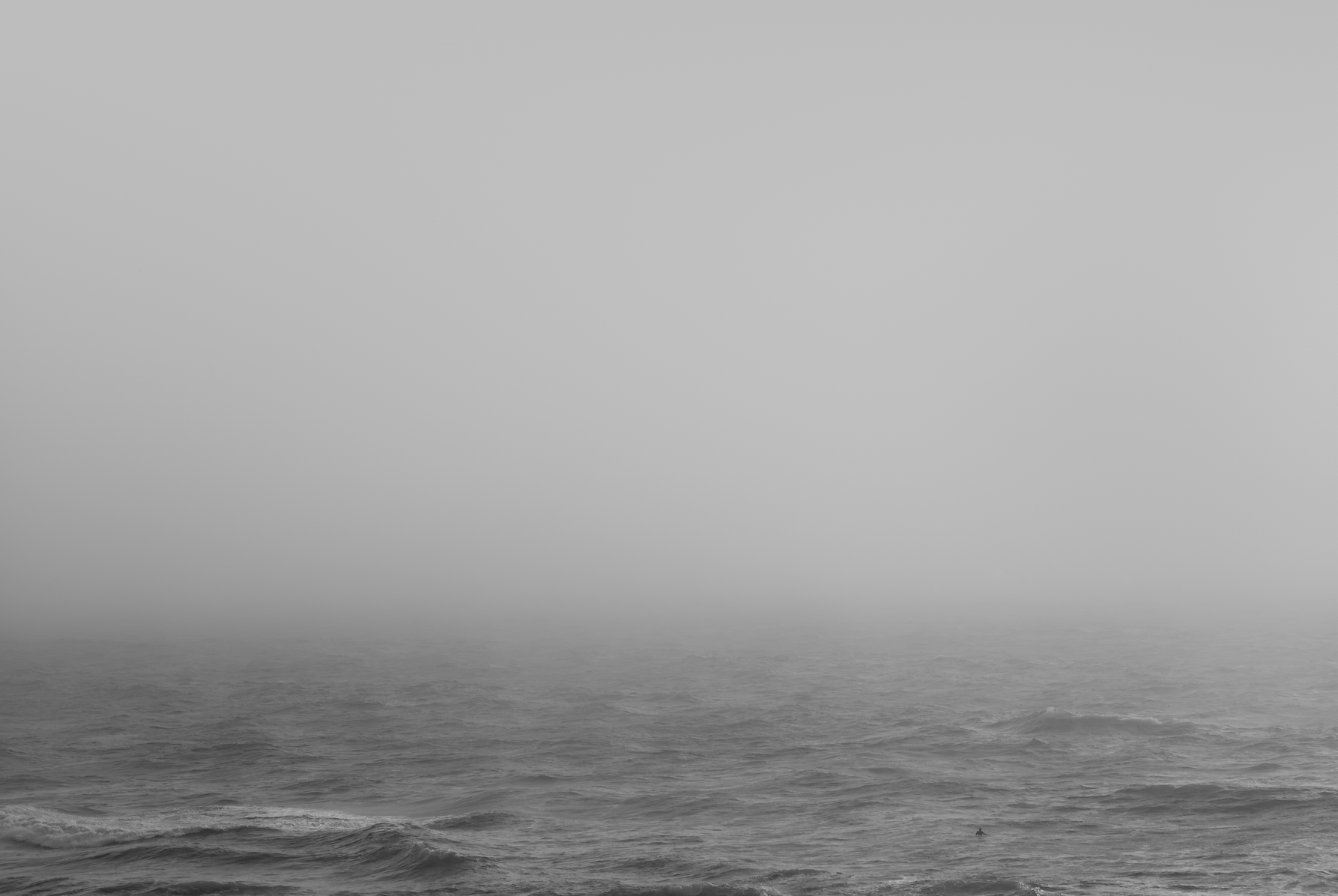 Man in Ocean
Photography
11" x 14"
Signature on the Front
Framed
this is a digital negative, shot on a leica 246 monochrom camera. water spots on the lens were cleaned up, and a 50 percent grey gradient was added to the fog on the camera-right side of the sky to even out some glare. otherwise, no pixels were moved. the fog was moving fast, and the sun was darting in and out, so i took only two photos waiting for the marine layer to be evenly spread across the frame. printed on one of the epson exhibition fiber papers.
Retail Price: $700
Minimum Bid: $210
When she was 11, Susan Merrell waited in the garage for the mailman to deliver pictures processed by Kodak that she had taken on her mother's Instamatic. She usually missed the delivery, but on one particular day, she timed it right and was there. She felt pure joy as the mailman pushed the bulky yellow and white envelope through the mail slot on the garage door and lucky to be there to grab the precious, yet unseen bundle of photos before it hit the ground. She doesn't recall what she photographed, but remembers the thrill of it. She is still shooting for the joy of capturing a moment. She strives for creating images that make you feel something, the whole point of photography according to a New York Times photo editor. SheI also hopes to "find the holy in the mundane," a tenet in Judaism that she's heard other photographers and artists quote. It sounds lofty, but it's just being open to where spirit or creativity guides you, rather than pushing for a good shot or thinking it's coming from yourself. Merrell shoots fine art, architecture, editorial, documentary and some commercial. The artwork part of her photography can be shooting non-journalism images like abstracts, landscapes, nudes, or creating something entirely new in post-production software, like the grand Photoshop program. She likes to draw as well. She uses inspiration and joy as a guide in deciding on a process, like she did without realizing it when she was 11. A fourth-generation San Franciscan, Susan l has worked as an editorial, documentary and fine art photographer in the Bay Area since 1989. Her projects range from art images and street documentary to brand marketing photographs as principal photographer for the University of California, San Francisco (UCSF), from 2007 to present. Merrell has received several photography awards, and her images have appeared in numerous local, national and international online and print publications, including: The New York Times, The Wall Street Journal, US News & World Report, NPR.org, ABC Network, Bloomberg, San Francisco Chronicle, San Jose Mercury News, METRO Newspapers, the journal Nature and California History magazine.