The Power of the Pivot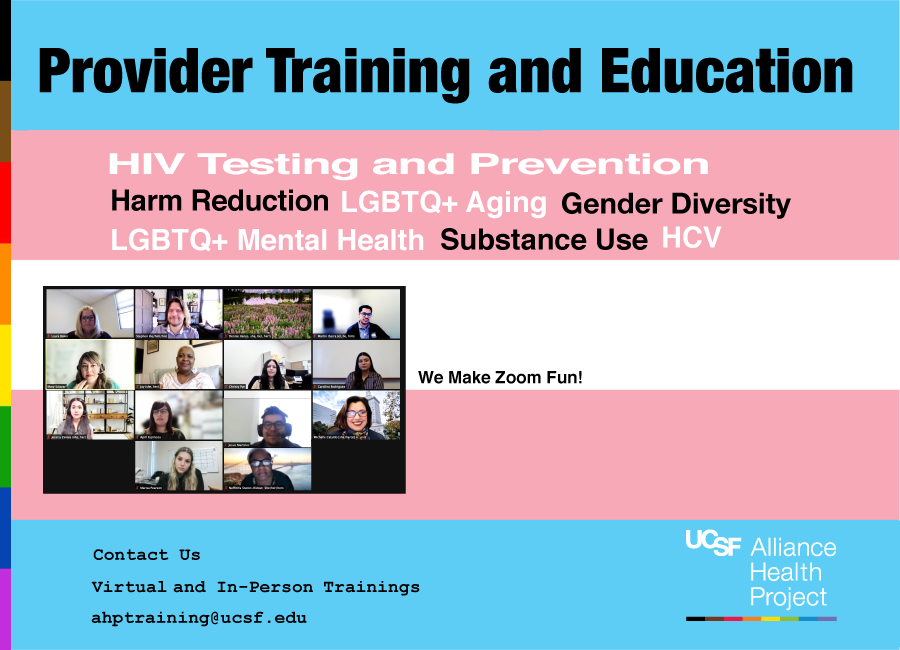 Until March 2020, being a member of AHP's Provider Training and Education (PTE) team meant travelling as many as 10 days out of every month.
"I have a lot of polyester in my wardrobe because; no wrinkles, easy clean, travels great, and I spill a lot of food," said trainer Michelle Cataldo.
Then COVID-19 happened, and we were all told to stay home as much as possible and not gather in groups. Suddenly, the give and take that Michelle and her colleagues feel with their training participants—one of the most prized parts of their jobs—the energy in the room as participants learn from each other, as well as, from the trainers, was put on hold.
AHP has a small but mighty team. It consists of manager, Jen Shockey, logistics coordinator, Neffitiria Staton, and trainers and curriculum developers: Francisco Nanclares, Mary Salazar, Stephen Scott and Michelle Cataldo. Their team's two main functions are to certify California HIV test counselors and conduct national in-person trainings on high impact HIV prevention interventions.
When COVID shutdowns occurred, this boisterous team of extraverts, who laugh a lot, bring home-cooked food to meetings while they talk and plan or work in each other's cubicles, was suddenly told to stay home. Just like the rest of the world, they had to reinvent how they work. And just like the rest of the world, they learned that a two-hour Zoom meeting can feel like a 20-hour meeting. They started using Slack all the time and sending each other little gifts via Amazon because they missed being together. And they faced transforming AHP's five-day, in-person, HIV certification trainings into distanced learning.
"It was really hard for us to imagine how we could create the interpersonal atmosphere of learning with an online training; and it was something that was actually new to all of us," Michelle said. "In the end, or maybe we're still at the beginning, we created something that's really different and that's still evolving but that we're really proud of."
The five-day certification training was turned into multiple modules. One of them is called the Virtual Counseling Skills Training, a 20-hour interactive class with the trainers online. Participants also complete homework--pre-recorded learning modules created by the team.
After months of learning, stretching, planning, and re-imagining, the training team developed a virtual fingerstick training to teach folks how to collect the blood sample for HIV and HCV testing. A virtual Rapid Testing training teaches folks how to run and read the rapid HIV/HCV tests. Participants are now evaluated on all this learning online. Among the many things trainers had to wrap their heads around was how to get materials to participants, how to ensure safety and how to ensure that biohazards were disposed of properly. In addition, being able to see things well enough to evaluate participant's skills development and learning comprehension was vital.
Since September 2020, PTE has presented seven Virtual Counseling Skills Trainings, each a week-long with two trainers, a producer and approximately 12 participants. They have also presented six virtual counseling re-examination trainings for folks who don't pass counseling the first time. The re-exam trainings give participants a chance to come back and show that they have continued studying and have mastered the skills. The team has also offered several proficiency trainings with either fingerstick or rapid testing or both. Often, this might be one trainer working one-on-one with a participant which can be time consuming. But new HIV/HCV test counselors are getting certified.
"I have to say, it's not an easy thing to do," said Michelle. "So, I'm really excited about that."
Reflecting on the challenges and opportunities of the last year, she said, "We had to change our mindsets and let go of the pieces that were fixed on doing things the way they had been done; shifting into a growth mindset and innovating and stepping outside of our comfort zone."
With that, the industrious PTE staff were able to create meaningful virtual training experiences and lead training participants to become certified as HIV test counselors.
"As a trainer, I've become much more aware of the differences in participant engagement during this time and have such compassion for the challenges folks have with remote learning – like zoom fatigue, tech problems, childcare issues, COVID-related demands and people who are traumatized by a variety of experiences related to COVID." she said. "And we're still learning how to respond and adapt in the best way for our participants."
Another milestone for the team was moving in-person, CDC-funded HIV prevention trainings to a live virtual format. Now, AHP trainers are conducting several three-day live online trainings with HIV Testing in Non-Clinical Settings being the most popular. Included among the other prevention trainings, is "Personalized Cognitive Counseling," a nationally recognized intervention developed by AHP staff with Executive Director James W. Dilley, MD as lead researcher.
Like all of us at AHP, training team members are passionate advocates for LGBTQ+ diversity, equity, and inclusion. Recently they partnered with the UCSF Center for Sexual and Gender Minority Health and delivered a "So You've Misgendered Someone Now What?" workshop to the first cohort of learners in the center's health certificate program. That workshop was well received and is one of several LGBTQ+ health and wellness trainings the team has made available to help organizations reach their diversity and inclusion goals.
"We've done a number of LGBTQ+ focused talks within UC over the years," Michelle said. "The challenge has always been--and still is--getting paid for that work so that we're able to devote more time to it which will also enhance our visibility as trainers and create what we hope is a virtuous cycle."